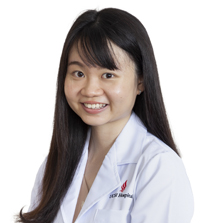 Specialty: Dietetics with Nutrition
Location: 1st Floor, Outpatient Clinic B
Phone/Extension No.: +606-648 8888/7154
Jie Yee graduated from International Medical University (IMU), an institution awarded with International Accreditation for Education for Dietitian-Nutritionists conferred by International Confederation of Dietetic Association, ICDA. She joins us with proficiency in health and disease prevention for the general public, disease management and rehabilitation therapy in clinical environment.
Her key areas include Clinical, Food Service and Contributing to the Community. She assesses and identifies nutritional problems, provides medical nutrition therapy and counsels patients on special diet modifications She works collaboratively with other healthcare providers such as doctors, nurses and pharmacists to provide the best yet suitable nutrition care. Jie Yee also provides and manages food production operation. She ensures high quality meals and snacks are provided to patients along with recommended food safety standard. Jie Yee has been actively involved with community events by providing dietetic consultation and public health talks to increase public health awareness. ​
Dietetics and Nutrition are centered around food, healthy diets and nutrition. She hopes to help people transform their lives with good nutrition. She strongly believes in the principle of "Let thy food be thy medicine and medicine be thy food'—the famous quote by Greek physician Hippocrates.