DR SHARAD RATNA
MBBCh,BAO(Dublin), LRCP&S(Ireland), MSc(Edinburgh,UK), MRCOG(London,UK), Master Reproductive Medicine and Fertility(UK), AM(National Specialist Register)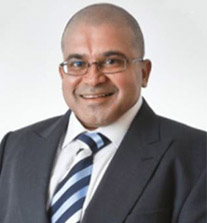 Specialty: Obstetrics & Gynaecology – Reproductive Medicine / IVF
National Specialist Register No.: 125000
Location: 1st Floor, Outpatient Clinic B, B1-03
Phone/Extension No.: +606-648 8888/7147​
Dr Sharad Ratna spent the first half of his life in the United Kingdom. He studied his A-Level at the Bellerby's College in Brighton, England. He is a medical graduate of the Royal College of Surgeons in Ireland, Dublin. He underwent extensive postgraduate training in Edinburgh, Scotland and in London, England. Having worked in Scotland and various parts of the United Kingdom, Singapore and Malaysia, he has a vast degree and diverse experiences in obstetrics, gynaecology, reproductive medicine (fertility) and sexual health and is committed to delivering the best of his medical expertise in women's healthcare. He specialises in pregnancy and women's health and has a special interest in reproductive medicine (fertility) and gynaecology endoscopic surgery.
His career in Obstetrics and Gynaecology began at the renowned Simpson's Memorial Maternity Hospital at the Royal Infirmary Edinburgh and the MRC Centre of Reproductive Biology of the University of Edinburgh. He subsequently underwent post-graduate training in Obstetrics and Gynaecology in various parts of the UK, in particular, in the south east of England and in London.
He has a Master in Reproductive Medicine from the MRC Centre for Reproductive Biology of the University of Edinburgh and was admitted as a member of The Royal College of Obstetricians and Gynaecologist in London (MRCOG).
Areas of Specialty:
Menstrual disorder (irregularity, pain, abnormal flow).
Polycystic Ovarian Syndrome (PCOS)
Endometriosis
Fibroids & Ovarian Cyst
Menopause/Perimenopause/Post-menopausal problems (bleeding, hot flushes, osteoporosis, vaginal dryness).
Sexual Diseases (Vaginal Discharge, STDs, Pelvic Inflammatory Disease etc)
Pre-marital, pre-pregnancy screening/counselling.
Fertility problems for investigation and treatment including Sperm Analysis, Laparoscopy procedures, controlled ovarian stimulation, Intra-Uterine Insemination (IUI) and In-Vitro Fertilization (IVF).
General obstetrics/pregnancy/childbirth/ante- and post-natal check-up.
Family planning/contraception counselling.
Abdominal bloating/distension associated with female reproductive organ (fibroid, ovarian cyst).
Post coital bleeding.
Routine gynaecological cancer screening and exams including PAP Smear.