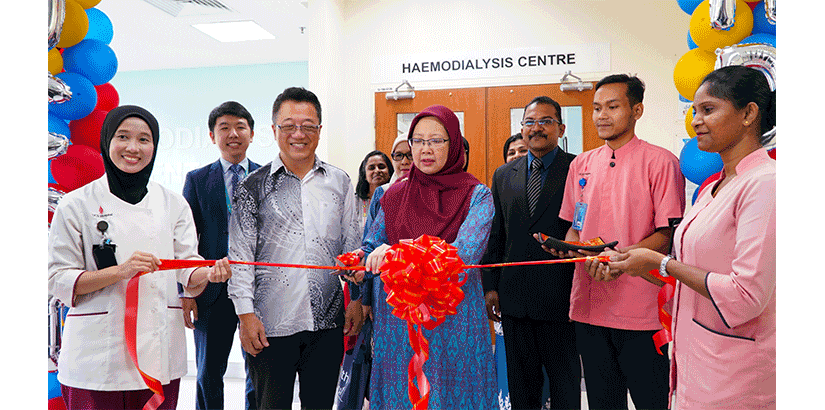 PORT DICKSON – Health Minister Dr Zaliha Mustafa launched UCSI Hospital's Adopt-a-Dialysis-Chair Project and its haemodialysis centre.

Dr Zaliha, Malaysia's first female Health Minister, said that UCSI's initiative was encouraging as it would ease the burden of underprivileged dialysis patients.

More than 10 sponsors have made their pledges so far, giving 13 dialysis patients a much needed lifeline.

"The Ministry gladly welcomes this initiative as the public healthcare system can accommodate approximately 30% of dialysis patients in Malaysia," she said after launching the centre.

"We need private hospitals like UCSI to step up. The start of this project is something we should be proud of and I'm sure it will continue to flourish.

"Such effort helps the Ministry reduce the burden of dialysis patients. I hope that this initiative will get support from the public."

UCSI's Adopt-a-Dialysis-Chair Project connects patients with individuals, corporations, foundations and NGOs that will sponsor their treatment needs.

Sustainability underpins UCSI's initiative. While each sponsor commits to at least three months of treatment, they may opt for flexible plans that will see them making financial commitments on alternate months or other intervals.

Dr Zaliha was also given a tour of UCSI's state-of-the-art haemodialysis centre that functions as a lifeline for dialysis patients in Bandar Springhill, Lukut and Port Dickson.

UCSI Group founder and executive chairman Dato' Peter Ng said that the sponsorship initiative was the Hospital's way of giving back to society.

"We want to give a new lease of life to dialysis patients, particularly those in the B40 group," he said in his speech.

"UCSI wants to contribute more to Malaysia's healthcare landscape and we are keen to explore more public-private partnerships. We stand ready to partner with the ministry on multiple fronts."

He also thanked the Adopt-a-Dialysis-Chair sponsors for their generous support.

Established in 2021, UCSI Hospital is part of the UCSI Health Metropolis, a mega project that seeks to turn Springhill into a medical tourism hub.