DR. PATHMA RASA A/L ANNA RASA
MBBS (Mangalore), M. Surgery (General Surgery) (UKM)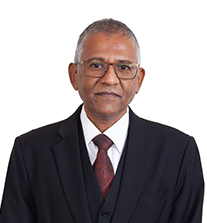 Specialty: General Surgery​
National Specialist Register No.: 124219​
Location: 1st Floor, Outpatient Clinic B, B1-06​
Phone/Extension No.: +606-648 8888/7147​
Dr. Pathma Rasa graduated from the University of Mangalore (Kastruba Medical College) in 1989 and completed his higher Surgical training at University Kebangsaan Malaysia Hospital in 1999. He obtained his General Surgical experience serving both in Peninsular Malaysia and Sabah. He has been in private practice since 2004.
He is well versed in the management of general surgical disease and has performed numerous operative procedures related to the thyroid gland, breasts, gastrointestinal tract, abdominal hernias, laser hemorrhoidectomy and other general surgical and laparoscopic procedures. He is an experienced Endoscopist, in use of both Gastroscopy and Colonoscopy for therapeutic and diagnostic purposes.​
His presence in UCSI Hospital will greatly benefit the local community and support its goals in attaining world-class healthcare standards.​​