DR MOHD FARIQ B. MOHD YUSOF
MD (Ukraine), Master in Radiology (USM)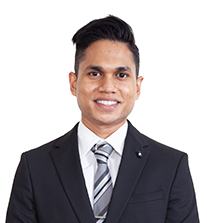 National Specialist Register No.: 138258
Location: 1st Floor, Radiology​
Phone/Extension No.: +606-648 8888/7128​
Dr Fariq obtained his medical degree from Crimea State Medical University (CSMU) in 2009 and his Master of Medicine(Radiology) in 2018 from University Sains Malaysia (USM).
His career started as a Medical officer from 2009-2011 at HRPB Ipoh and subsequently in Hospital Selayang 2011-2014. He completed his masters training by 2018 and has since been serving as a radiologist in HSA Johor Bahru 2019 to 2021. During this period, he has acquired vast working experiences in trauma imaging, oncological staging and disease responses to treatment, infective and connective diseases imaging, heatlh screening, neuroimaging and movement disorders, pediatric imaging as well as credentialed in some intervention radiology procedures. ​​
Dr Fariq also has received special training in musculoskeletal imaging in MRI and ultrasound providing accurate diagnosis of repetitive strain injuries, sports injuries and able to provide fine needle aspiration and pharmaceutical injections under image guidance. He also has experience in coronary CT imaging for health screening and diagnostic purposes.​